What is meant by Gluten Free?
What is Gluten?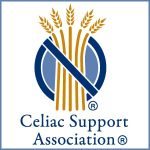 Gluten is a general name for the proteins found in wheat (durum, emmer, spelt, farina, farro, KAMUT® khorasan wheat and einkorn), rye, barley and triticale. Gluten helps foods maintain their shape, acting as a glue that holds food together. Gluten can be found in many types of foods, even ones that would not be expected (visit Sources of Gluten at celiac.org).

The Big 3: Wheat, Barley, Rye
Wheat is commonly found in:
breads
baked goods
soups
pasta
cereals
sauces
salad dressings
roux
Barley is commonly found in:
malt
food coloring
soups
malt vinegar
beer
Triticale is a newer grain, specifically grown to have a similar quality as wheat, while being tolerant to a variety of growing conditions like rye. It can potentially be found in:
Rye is commonly found in:
rye bread, such as pumpernickel
rye beer
cereals
What is Celiac Disease?
Celiac disease is a COMMON, genetically linked disease. An environmental STRESS can activate celiac disease. In people with celiac disease, gluten exposure evokes an immune mediated response throughout the body with measurable damage to the intestinal lining or skin. Some of the most common symptoms are joint pain, anemia, diarrhea, constipation, fatigue and irritability.